Build up, build up, prepare the way, remove every obstacle out of the way of My people.-Isa. 57:14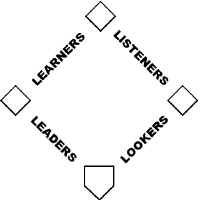 There are four stages of involvement in Tree of Life. LOOKERS are seekers who are getting to know God. When they receive the Holy Spirit they become LISTENERS, like the disciples in Luke 24 after a life-changing encounter with the risen Christ ("Then He opened their minds to understand the Scriptures," verse 45). When they are filled with the Spirit like the disciples in Acts 2, they become LEARNERS who discover how to speak and act on God's words with God's power. When through training and testing they demonstrate faithfulness, stewardship and spiritual authority in an area of service, they become LEADERS.
For really hungry participants we have extra in-depth discipleship called Going PLACES with God-taking one step at a time, as they discover their own SHAPE for ministry (thanks to Saddleback Church for the SHAPE and diamond concepts). PLACES stands for:
5 ways to grow
Praise, Pray, Prophesy, Preach & Practice what we preach
4 kinds of people
Lookers, Listeners, Learners, Leaders
5 ways of Listeners
Aim, Attitude, Ask, Answer, Apply
5 ways of Learners
Connect, Character, Cooperate, Contribute,
Commit
5 ways of Leaders
Explore, Express, Equip, Evaluate, Empower
5 things about you
SHAPE: Spiritual gifts, Heart, Abilities,
Personality,   Experience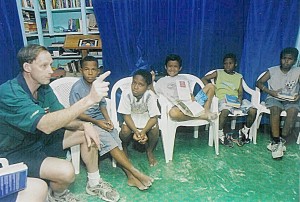 Our call to those we serve is to help them Look, Listen, and Learn to be Leaders, so we can see islanders grow into leadership roles in our mission, and start more initiatives of their own!